Meet Dr. Gregory Lew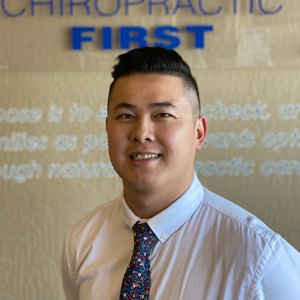 In March of 2010, Dr. Greg's life would forever be changed. While driving to school he got into a severe car accident. The first few days, things still seemed normal. However, on the third day, he woke up and realized he couldn't stand up straight.
Dr. Greg was hunched over and worried because he hadn't experienced this before. He thought to himself, "Maybe this will go away if I stretch." It was not working. Dr. Greg slowly used his hands to climb up his thighs, attempting to stand straight. Not knowing what to do, he just went to school in pain. At first, Dr. Greg refused to go to the doctor's, but after three days his mom said, "We need to take you to the chiropractor."
Experiencing the Powerful Effects of Chiropractic
By the end of the first session, Dr. Greg was so excited that he could stand again normally! Being young, impatient and not knowing better he didn't listen to the chiropractor and the first thing he did was go to basketball practice. After practice, he felt sore again and by the next day, he was back to square one. It was at that moment Dr. Greg realized he should have listened to his chiropractor and followed the at-home recommendations.
Education and Certifications
Dr. Greg received his B.Sc. from Point Loma Nazarene University in San Diego class of 2016 with a Bachelor of Science in Applied Health Science.
In October of 2016, Dr. Greg's journey to becoming a Doctor of Chiropractic officially started as he attended Life Chiropractic College West. He graduated in March 2020.
He is also certified in Applied Kinesiology and Kinesiology Taping.
EXPLORE CHIROPRACTIC »
A Passion for Helping Others
Even now, Dr. Greg still remembers that high school kid who was in pain, stubborn, scared and worried that he couldn't stand or play basketball anymore. All these years later, Dr. Greg knows his purpose is to give back and help change people's lives in a positive healthy way.
Enjoying Life in the Bay Area
Born and raised in the Bay Area, Dr. Greg loves watching all the area teams-the Warriors, 49ers and SF Giants. He enjoys watching games and spending time with his friends and family.
To stay healthy, Dr. Greg remains under chiropractic care. During his time at Life West, he finally understood that regular chiropractic care does much more than just provide pain relief.
Book an Appointment
Contact us today to schedule an appointment with Dr. Greg!


Dr. Gregory Lew | (408) 559-1662