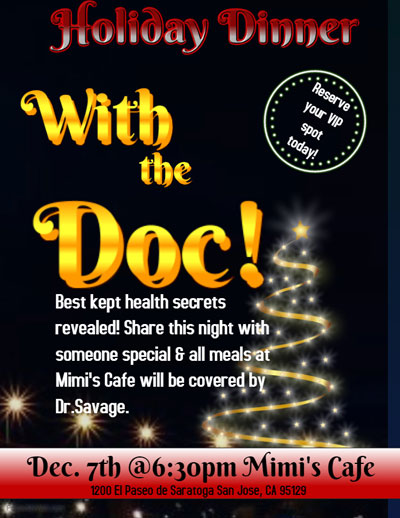 Come Join Us
You're invited to join Dr.Savage and the Chiropractic First team for dinner and presentation
Wednesday December 7th, 6:30-8pm at Mimi's Café.
This is the opportunity for you to share the gift of health with your family friends.
Bring a Guest
Bring a guest who is currently not a Chiropractic First patient and your dinner is complementary. We will be revealing the best kept health secrets as well as tips on how to end 2016 strong and create a healthier, happier 2017.
*This is a first come first serve event; Reserve your spot today!
Location: Mimi's Café
1200 El Paseo de Saratoga, San Jose, CA 95129